Have you read
part 1
?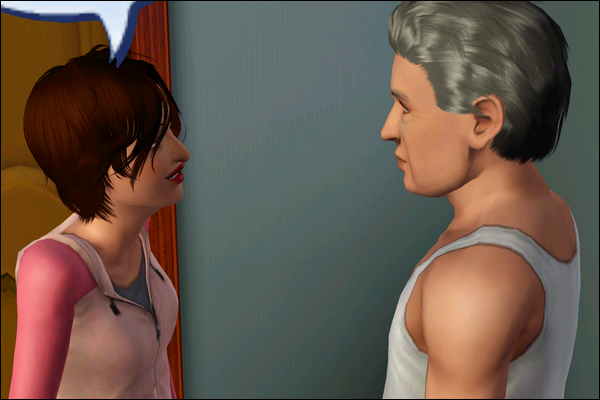 Clarisse
: Hey, Grandpa. You'll never guess what happened at school today-
Hal
: -sigh- What happened?
Clarisse
: I met an alien! A real one!
Hal
: Clarisse, how many times do we have to tell you, there are no aliens here-
Whatever, Hal of little faith.
Nix
: I'm half-alien, to be more accurate…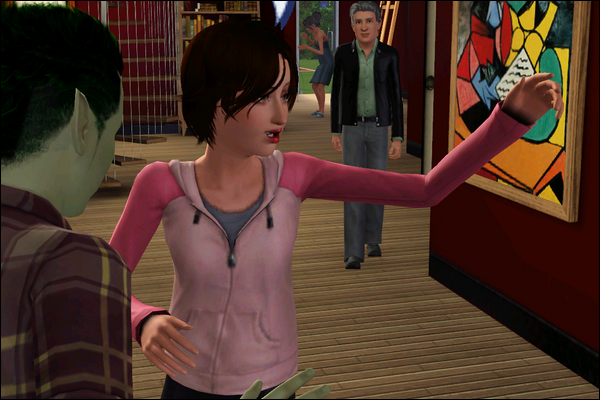 Clarisse
: Hey Grandpa! Come meet my alien friend!
Nix
: Clarisse-
Clarisse
: Sorry about my family. They never believe anything I tell them.
Clarisse
: I have so many questions! What is it, exactly, that makes your skin green? I mean, I'm not trying to be rude, green is my favorite color!
Nix
: Well, I don't know, exactly… My mom told me that on her home planet, purple skin was more common.
Alex brought home a friend too! This is Remember Crescendo (
kittenmittons
). She's Good, but opposing ideologies be damned, Alex is a boy with a crush. I don't see this going well.
Lenina
: Why is geometry so HARD?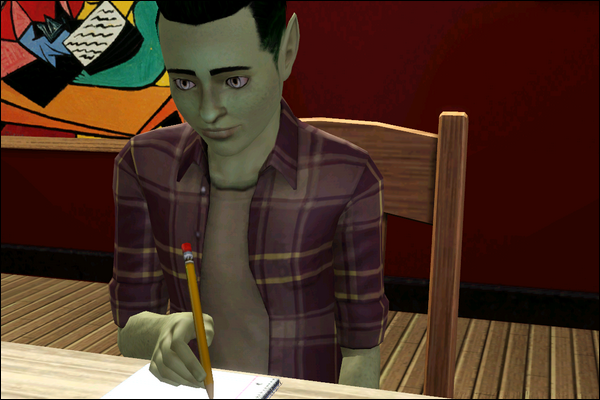 Nix
: Ha. This bitch.
Shut up, Nix, not all of us have freaky half-alien brains, okay?
Dorian
: Hi, I'm Dorian. And you… are green.
Oh crap, I guess it's Alex's birthday. He sure picked a good spot to age up. I'll remember your next birthday! I promise. Maybe.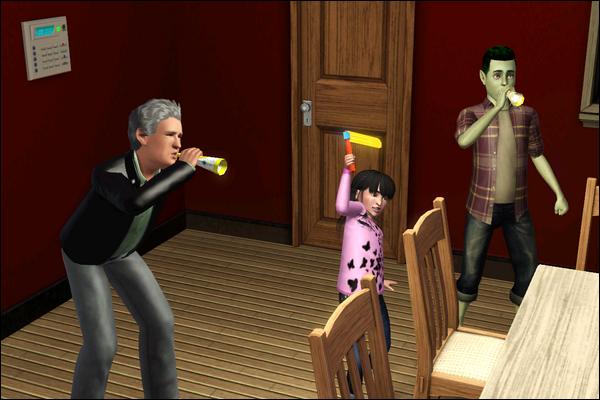 Nix, Remember, and Hal all gathered around to celebrate.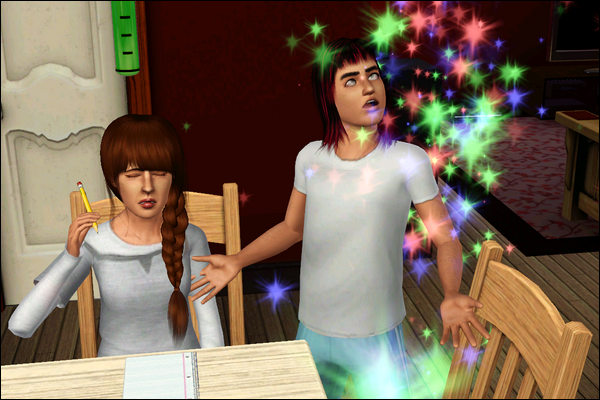 Veruca
: Look, I understand that you have glitter coming out of every orifice, but could you do that somewhere else? Trying to concentrate here.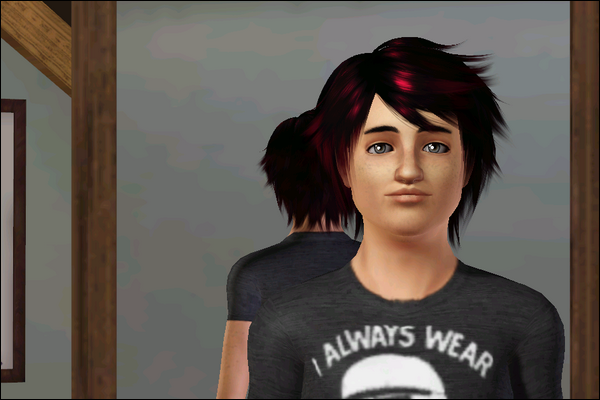 Awww, I love him. His nose is adorable. He rolled Hopeless Romantic, which I found amusing.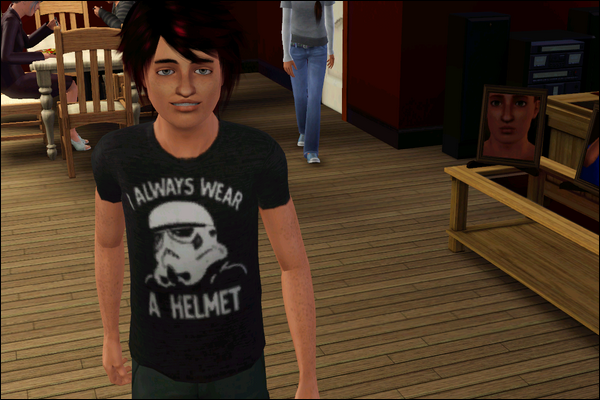 Alex
: Yep. I'm a stud.
Homework giving you trouble there, Nix?
Clarisse sometimes stares into space like this. It's adorable.
HE'S THE MOST PRECIOUS THING. I WANT TO HUG HIM.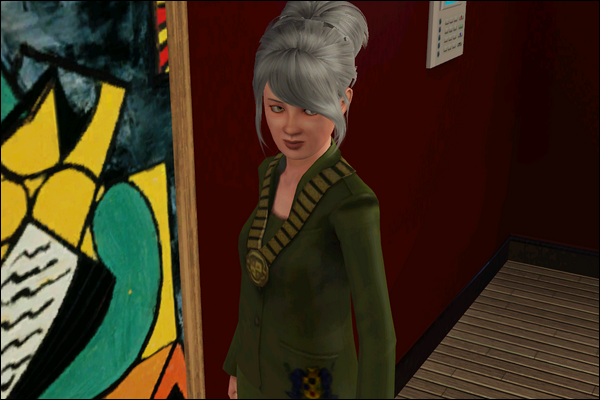 Look at Eliot in her spiffy Leader of the Free World outfit. She's so fab.
:') They're adorable. But also apparently insatiable, as they keep rolling wants to Woohoo with each other. ALL THE TIME.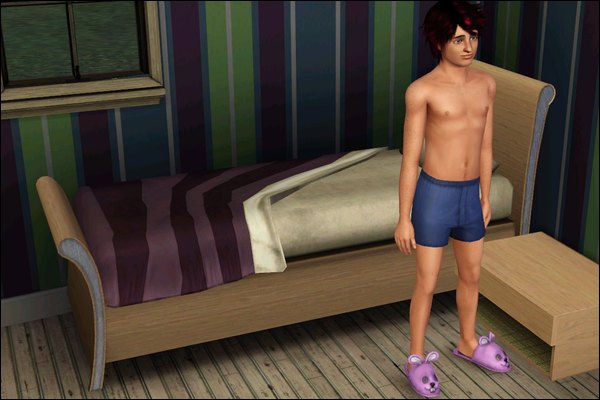 This picture was just to show off his bunny slippers. Of doom.
Alex
: Hey, grandpa. Do you think you could get me some plutonium-
Hal
: Are you for real?
Alex
: It's hard, being a kid and being evil.
It's hard and nobody understands
.
I think she has a sense to detect when her son is plotting evil. She always looks very pleased.
Nix
: Then, my mom's ship nearly crashed into Earth's moon, and they ended up having to do an emergency landing on Earth.
Clarisse
: I'd like to see the Big Dipper up close and personal…
Nix
: It's not, like, one cohesive thing, it's a bunch of- Wait, are you hitting on me? You say really weird things sometimes. It's hard to tell.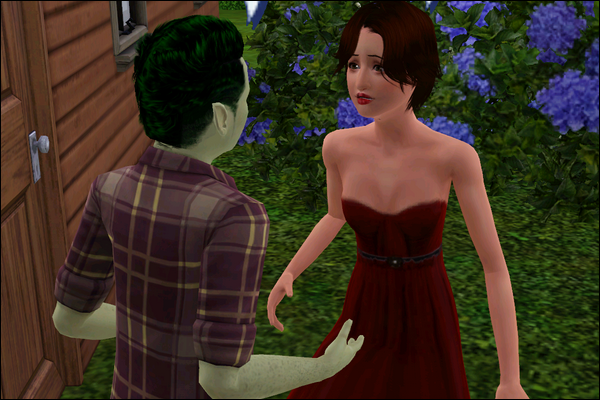 Clarisse
: Of course I'm not hitting on you, why would I? We couldn't even – wait. Could we… do you-
Nix: You know what? This conversation is quickly heading into territory I don't want to explore right now, and the sun's setting, so I think I'm going to head home.
Clarisse
: You hug just like a normal person. (Insert dreamy sigh)
Veruca decides to go out and get some fresh air (without her siblings). Her spot's usually pretty peaceful, but this time, she sees a familiar face.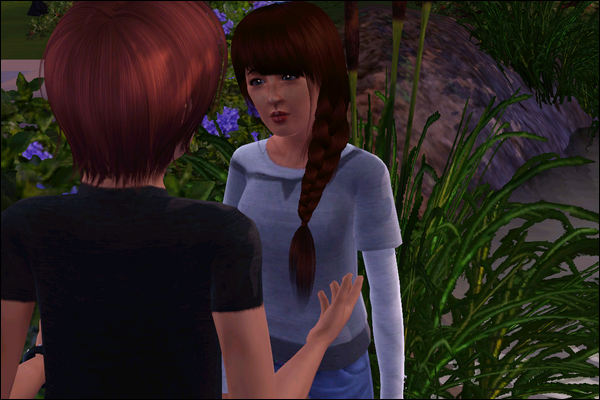 Veruca
: What are you doing here? It's Friday night. Don't you have a party to be at or something?
Cael Storms
(
visionofvim
): Yes, I do. And so do you. Which is why I'm here.
Veruca
: How'd you even know where I'd be?
Cael
: One of your sisters told me you like to hang out here. I thought I'd come and talk to you, and see if I could change your mind.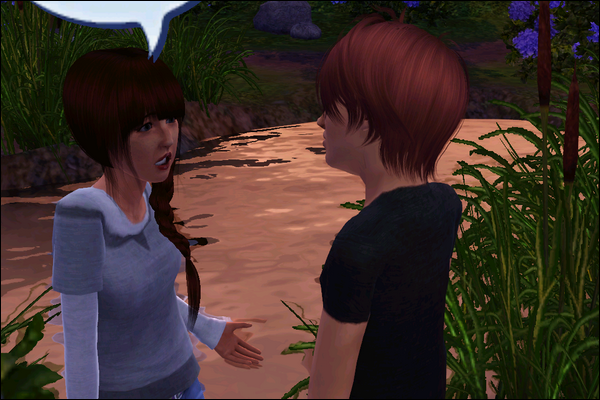 Veruca
: Look, Cael, I don't really feel like partying. I told you that at school. I don't even really talk to any of your friends. I won't know anyone there.
Cael
: I could introduce you. They'd love you. You'll have a great time, come on.
Veruca
: I'd rather not.
Cael
: Well, I can see that I'm not wanted here, so I'll just leave. I have to get a party started elsewhere.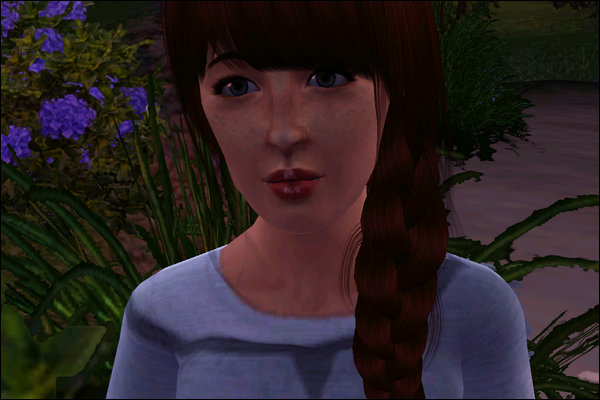 Veruca
: Boys… are so weird.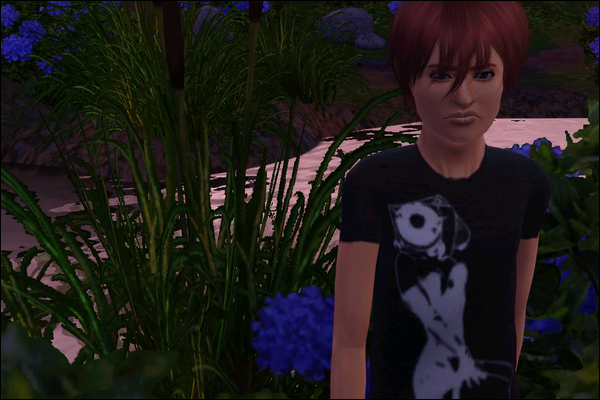 Cael
: Women.
Veruca didn't have much luck fishing that night. Maybe you should have taken him up on that offer, sweetie.
Ah, and this is what Lenina's doing. She likes inventing more than painting, I think.
Alex
: Hey! You showed up!
Remember
: Yes, but I only came over here to tell you that we probably shouldn't hang out anymore. I thought just avoiding you would work, but apparently not.
Alex: Why would you say that? You're my friend, I love hanging out with you. We've had some good times, what's the issue here?
Remember
: Don't play dumb, Alex. You're evil. And it doesn't matter how nice you are now, us being friends, or anything else for that matter, would never work out in the long term.
Alex
: Come on, Re. I can't help being evil. I think I just inherited it from my mom. It's not even that great – I'm not that smart, so it's not like I can really pull any of these stupid plots off. I can give it up. I won't say a single evil thing for the rest of my life. Because I like you and-
Remember
: You can't just give up being evil. I have evil siblings, I know what they're like. And you could easily lie to me. How do I know I can trust you?
Alex
: You don't. But you can! I'd never do anything to hurt you.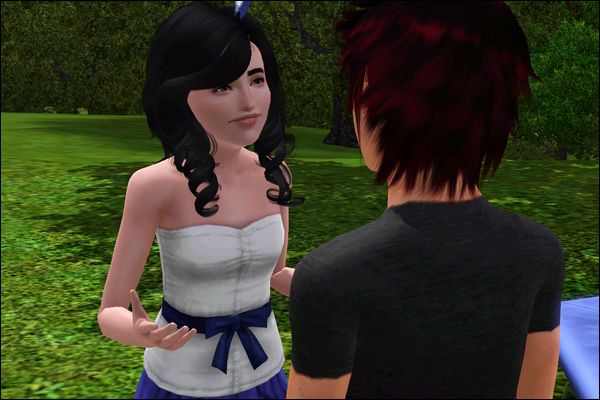 Remember
: I guess I wouldn't be very good if I didn't give my friend a chance. But Alex, that's all we are. Friends.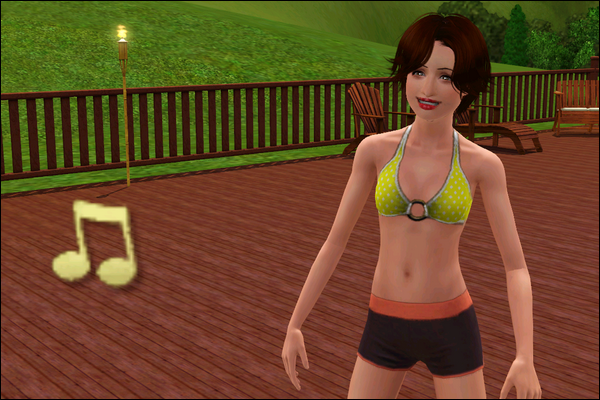 Meanwhile, Clarisse is breaking in the new, uh, party deck thing I built.
Get down with your bad self.
Remember, of course, joined her.
Then Alex decided to dance with Re, and it was adorable. I just kind of watched them dance for a few minutes.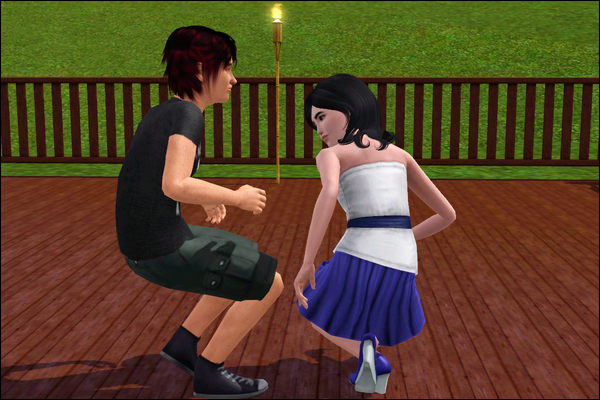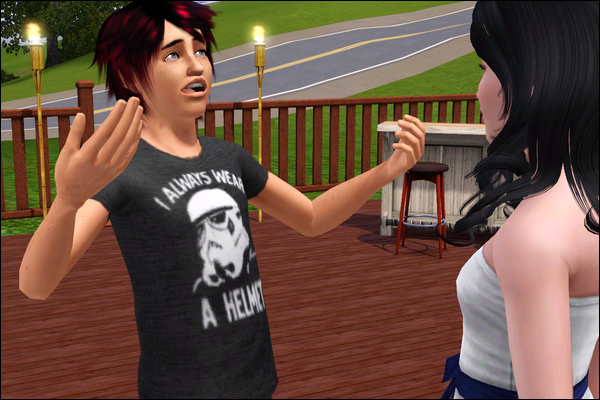 Alex
: Jeez, Re, that was incredible. You're the best dancer I've ever seen.
And then she left.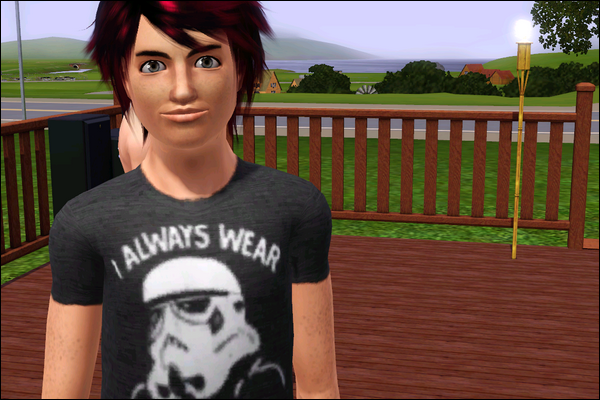 Alex, is that supposed to be… sinister?
Clarisse
: Nix, I'm sorry if I've been weird sometimes. I don't mean to make you uncomfortable.
Nix
: You didn't. All the weird things you say are kind of… charming.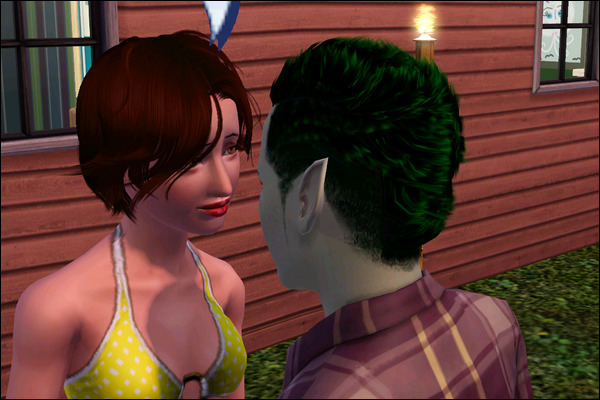 Clarisse
: You have really cool eyes.
They kind of sat there making dorky faces at each other, but Nix was dorkiest, so he got the picture.
Nix
: You know, you're really very pretty.
Clarisse
: That's so sweet. And since I know neither you nor your family is trying to control my mind and/or destroy humanity, I can do this.
♥
That's a good place to stop. Next time: Uh, the Worst Party Ever. Beyond that, I don't know. Will Lenina ever meet another human being and justify my love of her? Your guess is as good as mine.
Cael Storms:
visionofvim
Remember Crescendo:
kittenmittons